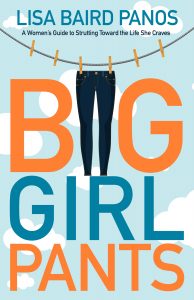 Are you ready to break the dead end cycle of dream-excuse-dream and commit to making serious changes to your life?
In her debut book, life coach Lisa Baird Panos explains that it can be as easy as changing your pants.
Women have heard for years that sometimes they just need to put on their Big Girl Pants and deal with it. But what if putting on your Big Girl Pants wasn't about dealing with your life as it is, but creating the life that your soul craves?
It's so easy to pull on that same pair of familiar and lived-in pants. They protect you from extraordinary failures, freak-outs and criticism. But don't they feel restricting and oppressive? What if changing and leaving the excuses behind meant you could have what you want? You don't have to feel trapped, unsuccessful, or silenced. You deserve the life you desire.
With her relatable, irreverent and empowering style, Panos weaves personal anecdotes, inspirational stories and quick exercises to help you transform yourself into a self-assured, honestly happy person who is unapologetically herself.
Stop dwelling on excuses, open your heart to opportunity and live not in fear, but in freedom. And you may even get a new wardrobe out of the deal.    AMAZON