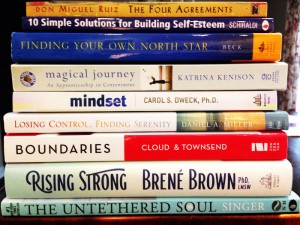 We cannot create the life we crave in a vacuum.  We all need inspiration, and sometimes a compass to point the way.
Here's a treasure trove of resources I go back to time and time again to help me recalibrate my navigation system.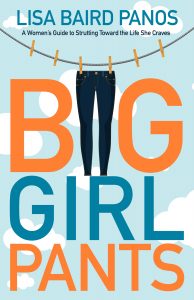 Big Girl Pants. Are you sick of feeling lonely, exhausted, or unfulfilled even though you have everything you thought you wanted?
Chock full of inspiring stories and easy-to-digest exercises, this self-help book is the catalyst every woman needs to transform herself into a self-assured, seriously-happy person.
After reading Big Girl Pants, you'll be able to:
• Identify and release the doubts, fears and hurdles keeping you stuck in an unrewarding life
• Find true happiness by going after what you really want, not by doing what is most popular
• Live life out loud as an authentic, confident woman who knows what it means to love the skin she's in (and rock pants that show off her unique figure)
There's no better time than now to create the live you've always desired. Big Girl Pants and transformational life coach, Lisa Baird Panos, will show you how.
Magical Journey: An Apprenticeship in Contentment
. The day I dropped my oldest daughter off to college for the first time left me with a huge hole in my heart. My "baby" was headed out to start the next chapter of her life, and although I was elated for her, I couldn't help but feel empty. Where did the time go? Magical Journey shows you that when life brings you changes, it also brings opportunity for growth.
Finding Your Own North Star: Claiming the Life You Were Meant to Live
. This book honestly changed my life. At age 44, I quit my full-time job, sold my white-picket-fenced home, got a divorce, downsized into a small condominium, and started my journey on becoming a life coach (all within six months). Finding Your Own North Star, written my the same amazing woman by whom I was certified to coach, was the caveat to following my own "North Star" and living the life that was in alignment with who I really was.
 The Conscious Parent: Transforming Ourselves, Empowering Our Children
.
As a participant in Oprah's Lifeclass in which Dr. Shefali Tsabary spoke about conscious parenting, I learned first-hand how we empower our children when we, as parents, are transformed. I stepped away from being a controlling mother and moved into more of mutual understanding role. This book changed my relationship with my two teenage girls more then any other parenting "self-help" book I have ever read.
What Children Learn from Their Parents' Marriage: It May Be Your Marriage, but It's Your Child's Blueprint for Intimacy
. This book is the reason my x-husband and I have a healthy friendship. Raising emotionally healthy kids took precedence over fighting. We refused to put our children through the many turmoils faced by countless divorced parents. It's a must read for intact families and those who are going through a divorce.
Loving What Is: Four Questions That Can Change Your Life

Byron Katie shares how to see our "issues" from a different perspective. She states, "It's not the problem that causes our suffering; it's our thinking about the problem." I have learned to question my thoughts, and when I do, I realize – more often then not – I am creating my own, unnecessary drama.
The 5 Love Languages: The Secret to Love that Lasts

Discovering that the "little things" we do for others may not necessarily be what "fills them up" was very eye opening. Sharing and receiving love differs for all of us. The Five Love Languages has helped not only me but also many of my clients.
Losing Control Finding Serenity: How the Need to Control Hurts Us And How to Let It Go (Volume 1)

I used to be the queen of control (and still find myself slipping back into that scary place). I micro-managed everything in my life, until I realized the damage it was doing to everyone around me. My need to control was a result of my fears. And, once I understood this, and faced my fears, I learned to back off. For anyone who wants to learn how to surrender, this book is for you.
Gift from the Sea
. This is my all-time favorite book. I read this book at least once a year, and preferably during an afternoon on a beach. I am reminded that just as the tide ebbs and flows, so do our lives. Lindbergh teaches us the importance of "how to remain whole in the midst of the distractions of life; how to remain balanced, no matter what centrifugal forces tend to pull one off center; how to remain strong, no matter what shocks come in at the periphery and tend to crack at the hug of the wheel."
It's a must read!
The Four Agreements Toltec Wisdom Collection: 3-Book Boxed Set
. Following Ruiz's simple, yet profound Four Agreements has been instrumental in finding peace and happiness in my life. They have helped me get to the source of what causes my suffering and helps me put life into perspective. My two favorite agreements are "Don't Take Anything Personally" and "Don't Make Assumptions." A game changer for sure!