Dating. Relationships. Communication. Self-love. This stuff is hard. In fact, once you throw social media and dating apps into the mix, it can feel impossible.
But it doesn't have to.
If this resonates with you, odds are we have a lot more in common than you think. Maintaining healthy relationships doesn't come easy. The thing is, as technology evolves, so does our ability to take charge over our own lives. Online relationship coaching is just one of these modern methods to provide convenient, accessible help to those who need it. Be it dating, empty nest syndrome, a rocky marriage, or how you see yourself – working with a certified relationship coach online sets you up for success in all relationships.
When I was trying to survive my divorce, it felt like my entire world was crashing down around me. I didn't know where to turn or who to confide in during this dark period of my life. Ultimately, this led me to become a life coach, specializing in relationships. By doing this, I can help people who need extra support navigate everything that comes with relationships (something I wish I had back then).
From dating to marriage and divorce fallout, there's nothing my experience – both personal and professional – hasn't touched.
So, where does that leave you? How can you take back control over your love life? Working with a relationship coach isn't for everyone, but the benefits of online relationship coaching could help you bridge the gap between wanting healthy relationships and actually having them.
What Is An Online Relationship Coach?
Online relationship coaches are certified life coaches who work within the specific niche of dating and relationships. We help individuals access the right tools to improve relationships with themselves and others. This could be the lovey-dovey dating relationships or the anxiety-stricken aftermath of finalizing your divorce. It could even be practicing self-love and appreciation. If relationship coaches are anything to our clients – we're your friend, shoulder to lean on, and guide through this messy thing called life.
As for me, I empower my clients' relationships by helping them own their shit. Plain and simple. Together, we work 1:1 style to identify your goals for relationships and mental health as a whole.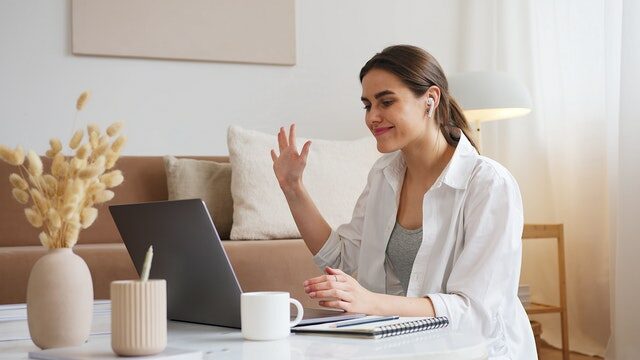 The Benefits Of Working With an Online Relationship Coach
An online or virtual relationship coach benefits not only the relationships you have with others but how you see yourself. The idea is to work on how to eliminate toxic behaviors while still staying true to who you are in your relationships. Why choose to work with an online coach? To put it simply: online relationship coaching meets you exactly where you are and sets realistic expectations.
Read on to find out how one-on-one relationship coaching can fulfill your life.
Online Relationship Coaching Makes Things Easier
The need to have remote access to professional help is more important than ever before. Choosing to work with an online relationship coach grants you the luxury of having your session from the comfort of your own home or office. There's no reason to add the extra stress of driving, parking, waiting in the office for your appointment, etc. when you can log in from your computer or phone and get the same (if not better) results.
An Online Relationship Coach Is Typically Less Expensive
Because you are not being forced to unpack a lifetime of events before the real work can begin (often common in therapy), coaches focus on the present and move forward from there. My goal is to offer an expedited solution for those who want to jump in and get the help they need, right away. Take Power Hour for example. This is an unorthodox approach to relationship coaching that is 100% online and condenses several sessions into one 60-minute sit-down. At just $150/hour, I skip the fluff to save you time, money, and most importantly, your relationship.
Increase Your Self Awareness
We could all use a little more self awareness, right? The way we interact with ourselves and those around us ties directly back to our sense of awareness. During your Power Hour session, we identify your triggers and separate what you can control versus what you can't. We're only human, but being self-aware humans means we have more meaningful communication and responses to what happens around us.
Improved Relationships & Understanding Of Self
The entire reason you're seeking out a relationship coach is to make your relationships – all of them – better. Online relationship coaching helps you prioritize the relationships you want to improve by setting unique goals for each. Relationship coaching empowers every chapter of your life:
+ Self-love
+ Dating
+ Breakups
+ Marriage
+ Divorce
+ Empty nester
+ Single and ready to mingle
Once you've established which relationship you want to improve (we can always work on more than one), I help you set boundaries and realistic expectations so you can continue to communicate in a healthy way with those in your life.
Online Relationship Coaching: Helping You Have Better Relationships
Asking for help is scary, but so worth it in the end. I know how you feel and know what you're going through. Online relationship coaching is a convenient and confidential way to work on both dating and relationships to live a better life. I'm here for you and together, we'll get through this.
Interested in getting a month's worth of help in an hour? Learn more about Power Hour and how this 60-minute session provides the advice you need without wasting thousands of dollars in therapy.